Jan 24, 2020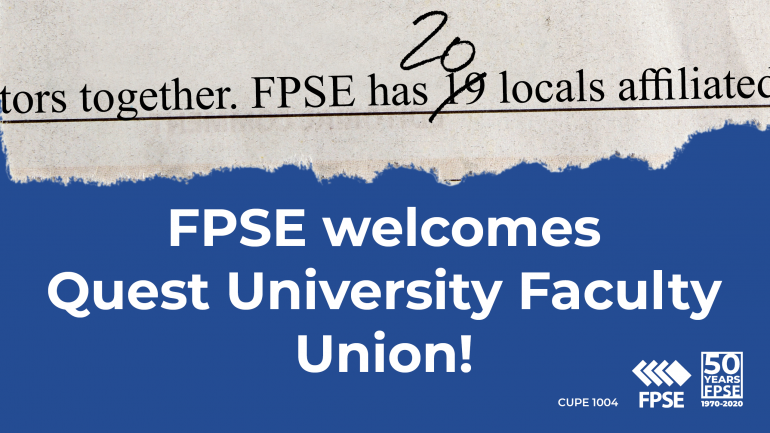 Sixty-seven educators at Quest University have joined the Federation of Post-Secondary Educators of BC (FPSE). The federation will now add representation from a union at a non-profit post-secondary institution to their existing 19 member unions in the public and private sector.
Faculty at Quest University were certified as the Quest University Faculty Union on October 29, 2019, with FPSE support for workers in their organizing efforts. The union's application to join FPSE was formally granted on January 24, 2020.
Statement from FPSE President, Terri Van Steinburg
"We're thrilled to welcome the Quest University Faculty Union to our membership of 10,000 workers  in colleges, teaching universities, NVIT, and private post-secondary institutions. Just as educators are stronger together by forming a union, post-secondary unions are stronger united as a federation.
The founding principle of the labour movement is solidarity. Quest University faculty reached out to us for support during their organizing efforts, which we were happy to provide. Those workers formed a union and soon after requested membership into our federation. We are a worker-centered organization and determined that our goals around improving faculty working conditions aligned. We'll do everything within our power to ensure the union achieves the rights they are fighting for – no matter the ultimate outcome of Quest University's current financial proceedings. I also want any faculty out there without a union, who want to form one, to know that we are here to help."
Statement from Quest University Faculty Union President, Tamara Trafton
"Faculty at Quest University Canada are dedicated to our students and to our university.  We're also dedicated to our coworkers and have both formed a union and joined the federation in order to increase employment security for all faculty. During a time of transition for Quest University Canada and the Quest University Faculty Union, the Federation of Post-Secondary Educators have shown us what solidarity truly means."
About FPSE
The Federation of Post-Secondary Educators of BC is the provincial voice for faculty and staff in BC teaching universities, colleges and institutes, and in private sector institutions. FPSE member locals, represented by Presidents' Council and the Executive, represent over 10,000 faculty and staff at 19 public and 5 private sector institutions.