Solidarity With Locked Out COPE 378 Members
Aug 10, 2015
On July 30th, 2015, FPSE showed solidarity with COPE 378 BCAA locked out members by joining them on their picket line.
The B.C. Automobile Association locked out approximately 70 staff responsible for dispatching tow truck drivers at BCAA Emergency Roadside Assistance on June 5, 2015.
Learn more about this dispute and how you can help here: https://www.cope378.ca/campaign/support-cope-378-members-locked-out-bcaa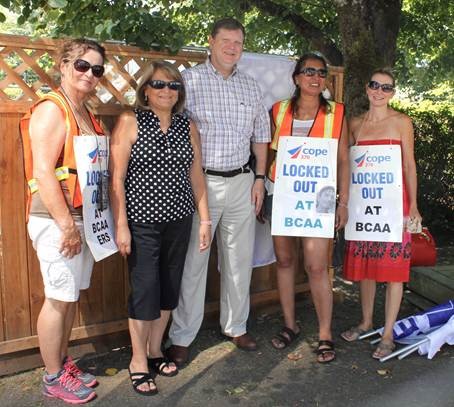 FPSE Secretary-Treasurer Terri Van Steinburg and President George Davison with locked out COPE 378 members.
About FPSE
The Federation of Post-Secondary Educators of BC is the provincial voice for faculty and staff in BC teaching universities, colleges and institutes, and in private sector institutions. FPSE member locals, represented by Presidents' Council and the Executive, represent over 10,000 faculty and staff at 18 public and 12 private sector institutions.