Mar 1, 2023
The FPSE Human Rights and International Solidarity Committee is proud to present the 2023 edition of the annual Speakers Tour, which will focus on international students and academic freedom.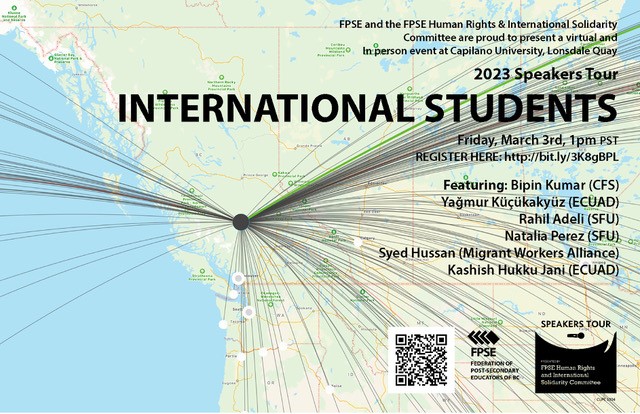 Friday, March 3: International Students Panel
1:00 p.m. to 3:30 p.m. PDT
Format: In person at Capilano University Lonsdale or online
Speakers: Bipin Kumar (CFS), Yagmur Küçükakyüz (ECUAD), Rahil Adeli (SFU), Natalia Perez (SFU), Syed Hussan (Migrant Workers Alliance for Change), Kashish Hukku Jani (ECUAD)
To register for the in-person event, click here.
To register for the online event, click here.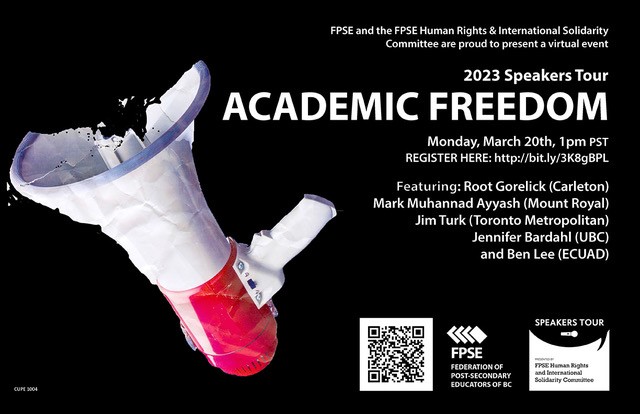 Monday, March 20: Academic Freedom Panel
1:00 p.m. to 3:30 p.m. PDT
Format: Zoom webinar
Speakers: Root Gorelick (Carleton), Mark Muhannad Ayyash (Mount Royal), Jim Turk (Toronto Metropolitan), Jennifer Bardahl (UBC), Ben Lee (ECUAD)
To register, click here.
About FPSE
The Federation of Post-Secondary Educators of BC is the provincial voice for faculty and staff in BC teaching universities, colleges and institutes, and in private sector institutions. FPSE member locals, represented by Presidents' Council and the Executive, represent over 10,000 faculty and staff at 19 public and 5 private sector institutions.