Oct 10, 2015
As we get closer to Election Day, decided voters are becoming more vocal in sharing their opinions about where they're parking their vote, and why. 

But according to Canada's leading polling firms, only 30% to 40% of voters have made up their mind. So what about the rest of Canada? This election, an unusually large number of people are waiting until the last minute to decide. 

For the undecided voter, it can seem like there's an overwhelming amount of information to review. Media reports, polling results, party platforms, election advertisements, blog posts, social media posts... the list goes on. 

We think being an informed voter matters. To help you figure out where the parties stand on important issues, we want to send you information about the issues that matter to you.
First, the basics:
To find out who's running in your riding, check out Elections Canada's Voter Information site.
Want to know where your candidates and their parties stand on issues? Here's a list of all registered parties with links to their websites.
Openparliament.ca is a great resource to find out voting records of your Member of Parliament.
Maybe you're looking for information on the major parties' election promises? One news station makes it easy: check it out.
At FPSE, we think it's time for change, and this infographic about Harper's attack on working people is just one example of why we're encouraging you to do your research before you vote.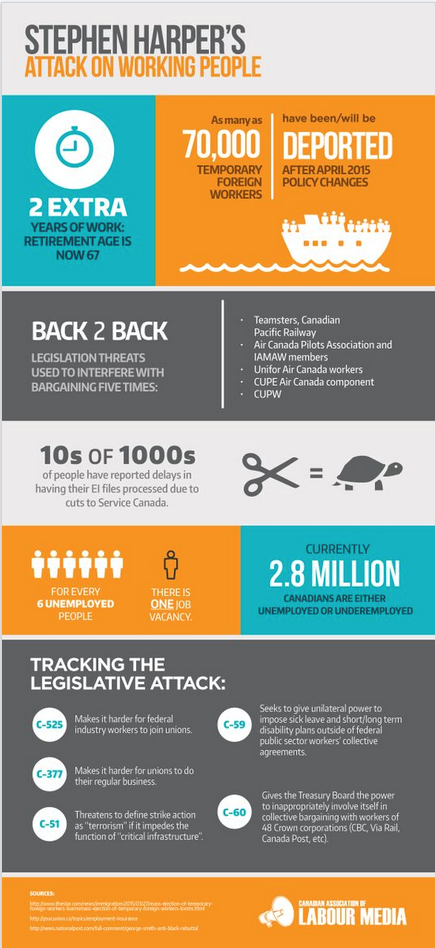 We know that voting is a personal decision, though, so we want to hear from you - what issues matter to you in this election? What are you voting for?
Head to our Vote for Opportunity page and download the "I'm voting for" placard. Fill it in with your top issue,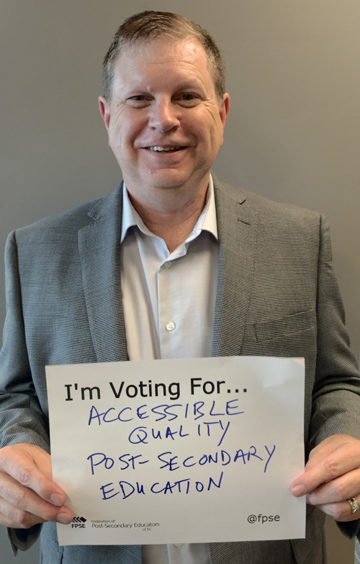 take a selfie (or have someone take a photo of you) and send it to us at info@fpse.ca or post it to social media - and don't forget to tag FPSE!
We'll use your responses as the basis of the information we share in our emails, compiling platform info, quotes from party leaders and candidates, news clips, and other useful tidbits we find about where the parties stand on your top issues.
FPSE President George Davison is voting for accessible, quality, post-secondary education.
About FPSE
The Federation of Post-Secondary Educators of BC is the provincial voice for faculty and staff in BC teaching universities, colleges and institutes, and in private sector institutions. FPSE member locals, represented by Presidents' Council and the Executive, represent over 10,000 faculty and staff at 18 public and 12 private sector institutions.