English Teachers, Students Left Reeling by School Closure
Aug 26, 2016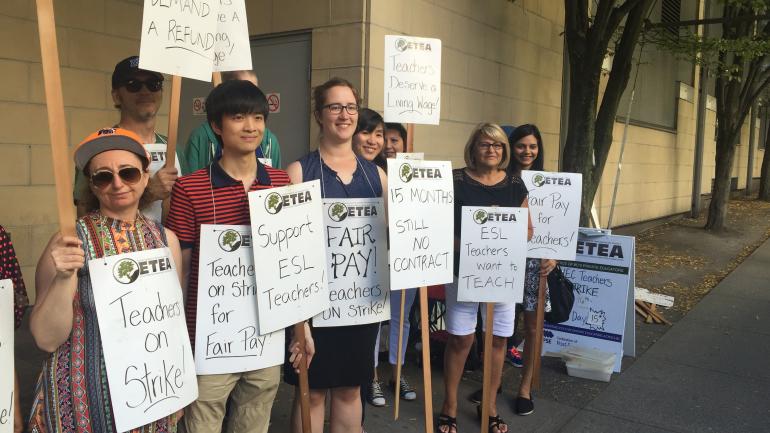 Teachers at Vancouver English Centre showed up for mediation with their employer Friday, armed with proposals aimed at re-opening the school.
They were shocked to discover the employer had given up, and has decided to close the school.
The teachers, members of Education and Training Employees' Association Local 9 (ETEA-9) and the Federation of Post-Secondary Educators (FPSE), have been off the job for 25 days and were hopeful that today's session with mediator Mark Brown would resolve their dispute.
"The employer emailed the administrative staff early this morning advising that he was closing the school, but he has not yet notified the union. He didn't even tell the mediator," said Kim Fissel, chair of ETEA-9's bargaining committee. "We all showed up hoping we could reach a settlement and get the school open again, but the employer didn't come."
"These teachers showed up for mediation as a genuine show of good faith," said FPSE's Secretary-Treasurer Terri Van Steinburg. "Our members have been trying to reach a first collective agreement for 15 months.  The school didn't even have the decency to send notice that they were cancelling mediation. It's devastating for our members."
The union has been striking for a fair first contract with a living wage for all 45 of its members. The parties were just one per cent apart in their most recent offers. 
"The actions of this employer are a clear indication of why private language and career schools need to be regulated by the provincial government," said Van Steinburg. "The premier and her cabinet have failed to enforce any sort of industry standard. That failure means this group of teachers are out of work and hundreds of students are out thousands of dollars in tuition fees. Regulation is critical to protect other students and workers from a similar fate."
"While this has been an extremely disappointing turn of events for us, our members still hope to get a contract and return to work. The union is considering all available options to encourage the employer to re-open the school so we can get back to teaching our students," Fissel said. 
About FPSE
The Federation of Post-Secondary Educators of BC is the provincial voice for faculty and staff in BC teaching universities, colleges and institutes, and in private sector institutions. FPSE member locals, represented by Presidents' Council and the Executive, represent over 10,000 faculty and staff at 18 public and 12 private sector institutions.