FPSE endorses Cronk and Skidmore
Nov 19, 2018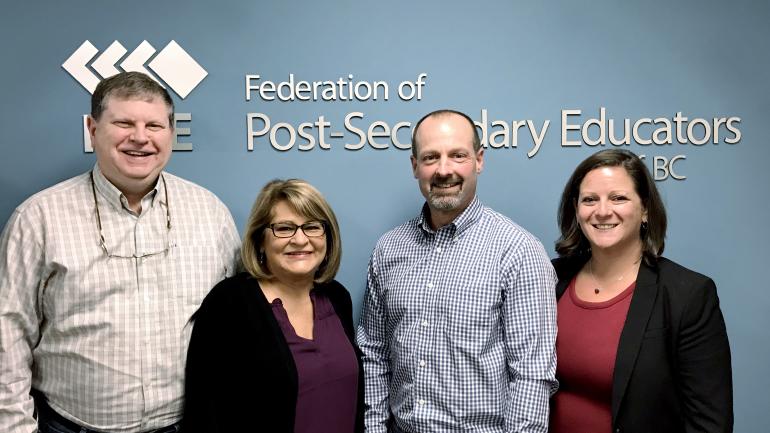 Vancouver, BC, Nov 19, 2018 – The Federation of Post-Secondary Educators of BC have endorsed Laird Cronk and Sussanne Skidmore in their bid for the positions of BC Federation of Labour president and secretary-treasurer.
"I can't think of a better team to be able to continue the work of the BCFED under outgoing president and secretary-treasurer Irene Lanzinger and Aaron Ekman than Laird and Sussanne. Their complementary skills and experiences make them the right candidates to take on the leadership of the BCFED," said FPSE president George Davison.
"The BCFED provides an important voice for the workers of our province and has proved to be an effective advocate for both union and non-union workers through campaigns like Fight for 15. I would like to thank Irene and Aaron for their thoughtful and principled leadership which has served our movement and our province so well," continued Davison.
FPSE secretary-treasurer Terri Van Steinburg added that Laird and Sussanne's private and public sector union knowledge, as well as their history of supporting social justice movements, are the right combination at the right time.
"Laird and Sussanne's depth of knowledge of all aspects of the labour movement will be a tremendous asset in making sure all workers in BC are respected and treated fairly. The previous government caused a lot of damage to protections that used to exist for workers. Laird and Sussanne know this and have shown their commitment to repairing this damage and making sure all people are safe, respected, and fairly compensated on the job. I'm proud to support their candidacy for BCFED president and secretary-treasurer," concluded Van Steinburg.
FPSE represents 10,000 educators in BC public and private post-secondary institutions.
-30-
About FPSE
The Federation of Post-Secondary Educators of BC is the provincial voice for faculty and staff in BC teaching universities, colleges and institutes, and in private sector institutions. FPSE member locals, represented by Presidents' Council and the Executive, represent over 10,000 faculty and staff at 18 public and 12 private sector institutions.