Aug 9, 2017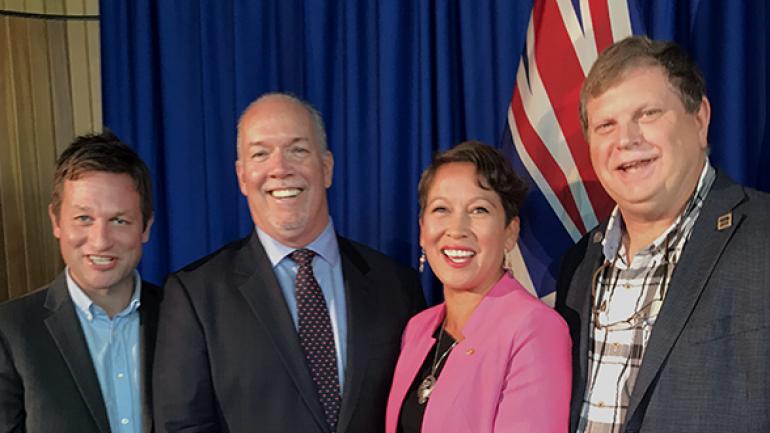 After years of lobbying, the Federation of Post-Secondary Educators of BC (FPSE) is delighted with news that Premier John Horgan has restored funding to Adult Basic Education and English as a Second Language (ESL) programs in B.C.
Cuts to ESL education announced by Ottawa in late 2013 led to huge tuition fees for ESL students, and provincial cuts to adult basic education, starting in January 2015, shut the door on post-secondary ambitions for many adult learners. The introduction of fees for ESL and adult basic education disproportionately affected low income earners, single parents, newcomers, refugees, and aboriginal students.
FPSE President George Davison attended the funding announcement Tuesday, August 8, at Camosun College in Victoria, where he met with Premier Horgan, Advanced Education, Skills and Training Minister Melanie Mark, and Education Minister Rob Fleming.
"Premier Horgan's announcement marks the end of a three-year campaign to ensure that adult learners and newcomers have access to basic education and language training in B.C." said Davison. "Our members were clear that adult basic education and English language programs provided foundational skills essential to secure employment and further post-secondary learning."
The premier's announcement is a victory for our members. Our Open the Doors campaign resulted in pre-election commitments to restore funding for these essential programs from the BC NDP and BC Greens, and from the BC Liberals in their aborted Throne Speech. The announcement is an important step in making sure that our education system is more affordable and accessible for all.
"This is good news for our members, and for anyone who cares about education in our province. But our work isn't over," said Davison. "There are a number of serious issues still facing our members in both public and private institutions throughout B.C., and we will continue to press the new government on those issues, including improving the trades training system, addressing affordability for students and student debt levels, the casualization of precarious academic work, and fulfilling the recommendations of the Truth and Reconciliation Commission."
About FPSE
The Federation of Post-Secondary Educators of BC is the provincial voice for faculty and staff in BC teaching universities, colleges and institutes, and in private sector institutions. FPSE member locals, represented by Presidents' Council and the Executive, represent over 10,000 faculty and staff at 19 public and 5 private sector institutions.