On last day of work for inlingua workers, respect and appreciation for their contributions
May 28, 2020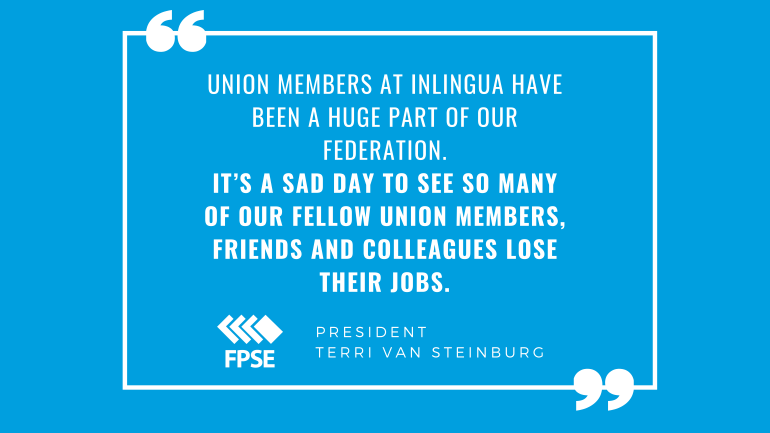 The private post-secondary sector was disrupted in the early days of the COVID-19 pandemic, with a dramatic drop in international student enrollment. Today, inlingua Vancouver is closing down, affecting the 20 teachers and staff who are members of our private sector union, ETEA. It's a sad day for our federation to see so many of our fellow union members, friends and colleagues lose their jobs.
The workers at inlingua didn't just welcome and teach students from across the world; they organized to form a union, join ETEA and support each other in improving their working conditions. Because of the incredible union activists who organized inlingua, workers achieved higher pay, better benefits, and a better working relationship with the inlingua owner and management. I wanted to share something said by ETEA President Kevin Drager about the closure:
I feel so honoured to have met and worked with the teachers at inlingua. They were strong participants within the ETEA and will be sorely missed. They helped our union grow stronger and provided a welcome voice. I wish all the teachers the best in their future endeavors and hope to see them working again in a union environment.
Union members at inlingua have been a huge part of our federation. They've participated on FPSE committees, added their unique perspective to our Private Sector Policy Committee, and joined federation-led projects. Our federation is stronger because of their activism and advocacy.
I want to give special recognition to Graeme Cheadle, inlingua educator and Vice President of ETEA. Graeme has sat on our Human Rights and International Solidarity Committee, Private Sector Policy Committee, and Contract Administration and Review Committee. He has always brought a wealth of knowledge and experience to discussions on any topic and fought to extend rights and protections for those with least. Graeme, you've made a tremendous and lasting contribution to our federation – thank you.
While this loss hurts, this is not the end of ETEA, or our collective fight for all educators at all institutions to have the dignity and respect of fair working conditions. This morning we called on institutions to use government financial assistance to keep workers employed, and for the government to extend financial assistance for people to help those who have reduced hours or lost their job altogether. This is a hard time. Let's do everything we can to help each other through it.
In solidarity,
Terri Van Steinburg
About FPSE
The Federation of Post-Secondary Educators of BC is the provincial voice for faculty and staff in BC teaching universities, colleges and institutes, and in private sector institutions. FPSE member locals, represented by Presidents' Council and the Executive, represent over 10,000 faculty and staff at 18 public and 12 private sector institutions.