Transgender Day of Remembrance
Nov 19, 2015
November 20, 2015
November 20 is Transgender Day of Remembrance, held annually to remember the people killed due to anti-transgender hatred or prejudice. This past year, 73 people around the world have lost their lives to anti-trans violence. Just as tragically, the suicide rate for trans people in Canada is one of the highest. Over 10 per cent of trans Canadians have attempted suicide.
Trans people also face violence and prejudice in the workplace, experiencing high levels of sexual, physical, and emotional harassment. For the labour movement, speaking out against trans violence is an important part of our long history of struggle against all forms of discrimination.
"As educators and labour activists, we strive for safe spaces for all transgender and gender variant individuals, in our workplaces and in our classrooms," said FPSE Secretary-Treasurer Terri Van Steinburg. "We remember those who have lost their lives due to anti-trans violence, and work toward ensuring no one else ever does."
Trans people are not specifically protected under either the Canadian Human Rights Act or the BC Human Rights Code. The BC government has refused to support legislative amendments that would extend human rights protection. The newly-elected federal government has committed to amend both the Criminal Code and Human Rights Act to extend these protections, much-needed changes for a vulnerable population.
Transgender Day of Remembrance began as a memorial vigil held in San Francisco, California in 1999 in memory of Rita Hester, an African American woman who was murdered because she was trans. To date, her murder remains unsolved.
"This Day of Remembrance is an opportunity for all of us – trans people and allies – to take a stand against transphobia and violence," said Van Steinburg. "Let's work together to provide safe and supportive spaces for all."
On November 20, join us in remembering those who have lost their lives. Join us in the fight to ensure that all trans people have the opportunity to live full and healthy lives.
CLICK HERE http://tdor.info/ for more information about the trans people who lost their lives in 2015.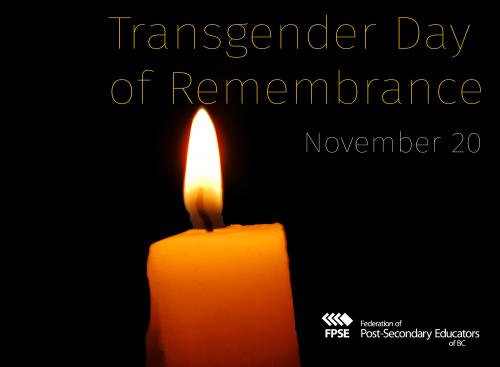 About FPSE
The Federation of Post-Secondary Educators of BC is the provincial voice for faculty and staff in BC teaching universities, colleges and institutes, and in private sector institutions. FPSE member locals, represented by Presidents' Council and the Executive, represent over 10,000 faculty and staff at 18 public and 12 private sector institutions.